Sony SRS-XB10 /LC Portable Bluetooth Mobile/Tablet Speaker (Blue, Mono Channel)
Power Output: 5 V
Power Source: Power Adapter, Battery
Wireless music streaming via Bluetooth
Extra bass; with bass enhancers for party and dance music
Portable and lightweight; so carry it wherever you go
Water resistant meant for both indoors and outdoors as well
Massive battery with upto 16 hours of battery life
Powerful connectivity with NFC touch
Connect two portable speakers for enhanced Stereo sound
| | |
| --- | --- |
| Brand | Sony |
| Model | SRS-XB10 |
| Item Weight | 399 g |
| Product Dimensions | 9.8 x 15.7 x 9.8 cm |
| Batteries: | 1 Nonstandard Battery batteries required. |
| Item model number | SRS-XB10 |
| Included Components | USB Cable 1U, Warranty Card 1U, Operating Instruction 1U |
| Speaker Connectivity | Wireless |
| Voltage | 5 Volts |
| Power Source | DC |
| Battery Average Life | 16 Hours |
| Batteries Included | No |
| Batteries Required | No |
| Battery Cell Composition | Lithium |
| Battery Power | 1400 |
| Maximum Operating Distance | 10 Meters |
| Supports Bluetooth Technology | Yes |
Product description
Colour:Blue
Wherever you go, take some big beats with you. The SRS-XB10 is easy to carry and brings out the bass in your music. Its splash-proof features let you to enjoy your music anywhere indoor/outdoor. You can match it to your style quotient by choosing from 4 attractive colour options. The 16 Hours battery time lets you enjoy your favorite music for long hours.
What's the point of throwing a party if you don't have proper speakers to set the mood with? Make every party of yours a memorable one with the Sony portable wireless Bluetooth speaker.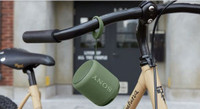 Extra Bass
Don't let this speaker's compact size fool you. It comes with a passive radiator which works with the monaural speaker and enhances low-end tones and gives the bass a boost.
Any Time, Any Place
Not just house parties, this Sony speaker can be carried with you anywhere you go, to the beach shack or the hillside tent. This wireless Bluetooth speaker not just offers up to 16 hours of battery life but it's also IPX5 water-resistant making it the perfect travel companion.
Connectivity
All it takes is one touch to connect your smartphone to this Sony speaker, thanks to its Bluetooth technology and NFC.
---
From the manufacturer
EXTRA BASS Technology

Innovative EXTRA BASS technology makes this a perfect speaker for enjoying EDM and other bass-heavy music genres. Using a unique Sony digital signal processor, EXTRA BASS enhances deep, punchy bass sounds. It adds an extra effect in every small moment you celebrate with EXTRA BASS button to experience music with more impact.

Bring Dance Music to Life with EXTRA BASS

Get things going with EXTRA BASS. A passive radiator works with the mono-aural speaker to enhance low-end tones, giving bass a boost – despite the compact size.

Any Time, Any Place

The SRS-XB10 is compact and wireless so it's easy to move. With a long battery life and a water-resistant surface, you're free to pick it up and put it anywhere.

Water-Resistant Design

Whether you're listening to tunes indoors or outdoors, relax knowing the wireless speaker is IPX5 water-resistant with SRS-XB10, your entertainment need not stop because of dazzling rain or pool splash.
Up to 16 Hours of Battery Life

Listen for longer with up to 16 hours of battery life.

Small and Light Design

Thanks to its compact size, you can pick up the speaker, pop it in your bag, and take it anywhere you want.

Add an Extra Speaker for Stereo Sound

Simply connect two SRS-XB10 for stereo sound.

Easy Bluetooth Connectivity with NFC One-Touch

Connect your smartphone with One-touch NFC and get the beats going in an instant.
Price Alert
Price Change Anytime After Click, This Is Not All Time Price
Q & A
Q:
does He work any mobile,,?
A:
Yes – works with mobile
Q:
is it support in led t.v.
A:
i have not tried that. but if the tv is Bluetooth enabled, it should work.
Q:
why it is not pair with moto g3 mobile?
A:
i think blutooth version play important role in connecting…….thats why u are facing problem . i have lenovo vibe k5 note ……. and it connect very easily…….
Q:
will my headphone support its 3.5 mm jack for audio output ?
A:
Instead u can easily connect it through Bluetooth. It's worth and product is of very good quality. Cant expect more than this from Sony at this price range when compared to others
Q:
Whts abt battery backup is it gives 16hrs backup??
A:
yes.. awsomm product.. love it…
Q:
how to understand charging is complete ?
A:
Charging light gets off when it's completely charged.
Q:
can i charge with mobile charger?
A:
Yes, I used to use my mobile charger only
Q:
speaker ismono. how tomake it sterio
A:
if you want streo sound you have to purchase another speaker of sony so you can use your add button to connect it
Q:
is it compatible with Samsung Galaxy j1 4g
A:
yes it is compatible with all device having bluetooth..
Q:
is this speker portable with coolpad note 3 lite
Q:
I read in one of the reviews that it doesn't come with a charger, just a cable & in the Sales Package as well the same. If it's true then how is it supposed to be charged?
A:
just use any Android charger man or use the USB of your PC/ laptop.
A:
they told me but i never tried this bro….. but remember one thing that this is not totallly waterproof this is only splashproof so dont immerse this in water
Q:
can i use this with redmi note 4
Q:
it's made with NFC technology
A:
Yes! Works like a butter. Easiest way to connect to my phone
Q:
could we connect with phone by using usb cable
A:
no, you can connect by aux cable
Q:
May I connect my headphone in its mini stereo jack ?
A:
It's an Audio-input port, not an output port. So, No!
Q:
How was the battry backup
A:
If you listen music on full volume, it will remains upto 5-6 Hrs
Q:
Will it support pendrive?
A:
YES SURE IT WORKS ON LAPTOPS
Q:
how is the loudness of this product ? Better than envent and JBL clip ?
A:
as sound yes it's good not better then JBL stereo but much better when I connect one more Sony XB10 , then no comparison with JBL stereo speakers Sony it's loud and clear as bass is good not too bad
Q:
Whether it has a microphone inbuilt?
A:
Yes, it has a microphone
Q:
Is it compatible with IPhone?
Q:
does it support pen drive?if yes,then upto how much GB?plz reply….
A:
No, It don't support pen drive.
Q:
Is it capable for a dancemood…how is sound quality? How loud it is for a big room?
A:
It's quite good actually. It can serve your purpose but again don't expect anything extraordinary.
Q:
Does it have previous and next button???
A:
It has a button that you can stop and play song…. And when you can press it two times the next song will play.. But it hasn't a previous button
Q:
does it support pendirive?
Q:
Which one is better xb 10 or jbl clip 2???
Q:
Is it waterproof or only splash proof
Q:
If i buy this i get the stand or hook for hang
A:
I am sorry for the late reply. Yes, it is part of standard equipment.
Q:
can it connect with mi note4 mobile
A:
It should connect to your smartphone. Other than turning ON bluetooth on your smartphone, you also must turn OFF bluetooth on any other device before pairing Sony SRS-XB10 with your smartphone.
Q:
it's made with NFC technology
Q:
it's made with NFC technology
Q:
will it play while charging??
Q:
Can 3 speakers get connected together?
Q:
how to understand in this speaker the charging is low and the charging is complete?
A:
When charge is low, the orange button next to charging point starts blinking.
Q:
is it support dual core processor computer
A:
yes it does support dual core computer
A:
It can be connected with any device having Bluetooth.
Q:
Does it connects with amazon fire stick?
Q:
Does it works with moto g2 mobile?
A:
Yes ,it works with any bluetooth enabled device.
Q:
how is its bass and sound quality as compared to ue wonderboom
Q:
sound is loud or same as mobile speaker
A:
Sound is much louder than mobile speaker and had bass too as the name suggests.
Q:
does it have any usb port?
A:
yes . through it gets charged.
Q:
This is connect Mi 4A yes na No ……??????
Q:
is it support aux connection?
Q:
Does it support for apple ipad mini4
A:
Yes, it will support the device with Bluetooth.
Q:
Does it works with lenovo k4 note?
A:
most probably no.because from Bluetooth version 4.1 only it supports Bluetooth speaker..headpohones etc..and Lenovo K4 note is version 4.0..so sry it won't work
Q:
does it connect with any type of mobile
Q:
Does it work with s7 edge…BT VERSION IS 4.2
Q:
Does it have next or previous song buttons?
Q:
if add one more speaker as it mention?
Q:
what is the procedure of charging?
A:
we can easily tu charge with the help of charger ,and the charging cable also in the box…
Q:
Can we keep sd card or not