JBL GO Portable Wireless Bluetooth Speaker (Black)
Great sound and small form factor
Wireless bluetooth streaming
Speakerphone and durable material
Compatible with smartphones and tablets
Connector Type: Bluetooth, Aux-in
Technical Details
| | |
| --- | --- |
| Brand | JBL |
| Model | K951037 |
| Model Name | Go |
| Model Year | 2015 |
| Item Weight | 132 g |
| Product Dimensions | 8.3 x 6.8 x 3.1 cm |
| Batteries: | 1 Lithium Polymer batteries required. |
| Item model number | K951037 |
| Operating System | Android |
| Additional Features | Great sound and small form factor, Wireless bluetooth streaming, Speakerphone and durable material, Compatible with smartphones and tablets, Connector Type: Bluetooth, Aux-in |
| Included Components | 1 |
| Number Of Items | 1 |
| Colour Screen | No |
| Speaker Connectivity | wireless |
| Audio Wattage | 3 Watts |
| Wattage | 3 Watts |
| Batteries Included | No |
| Batteries Required | Yes |
| Battery Cell Composition | Lithium Polymer |
| Total Usb Ports | 1 |
| Connector Type | Bluetooth^Aux-in |
| Contains Liquid Contents | No |
| Includes Rechargable Battery | No |
| Includes Remote | No |
| Supports Bluetooth Technology | Yes |
JBL Go Wireless Portable Speaker
Compact and portable
With the JBL Go Wireless Portable Speaker, you get to enjoy amazing audio experience. It weighs 132 grams thus making it portable and easy to carry around on your vacations or parties. The speaker comes in 8 different trendy colours to suit your taste. The speaker also has a lanyard loop, to enable you to attach a lanyard or a clip. This way you can hook it to your bag and carry it conveniently. The Wireless Speaker also supports Aux-in, hence you can connect it with any device like Smartphone, laptop, or computer to play music or watch videos and movies with more impactful sound. The speaker is made of durable material which adds to its durability and promises entertainment for a long run.
Loaded with Technology
The speaker possesses easy Bluetooth connectivity and you can hear music on-the-go through any Bluetooth-enabled device. It delivers powerful bass sound and full-bodied vocal which gives great sound effects. Moreover, it is equipped with echo-cancellation and noise cancellation technology to eliminate external sounds.
Built-in Microphone and Rechargeable battery
The Speaker comes with an inbuilt microphone to enable you to attend your important phone calls without any disruption. This speaker comes backed with 600 mAh rechargeable battery thus keeps you entertained for 5 hours, once completely charged.
---
From the manufacturer
Compact Size. Big Sound
The JBL Go brings JBL quality sound everywhere.
Your all-in-one speaker solution, the Go streams music via Bluetooth from smartphones and tablets, powered by a rechargeable battery with up to 5 hours of playtime. It is also equipped with a convenient noise-cancelling speakerphone, allowing you to pick up calls without turning your speaker off.
Available in 7 vibrant colors with a smooth and durable double-injection finishing, the JBL Go provides exciting, eye-catching contrast wherever it goes and easily compliments anyone's style. A built-in strap-hook and optional carrying strap, allows you to bring your music everywhere. In a world where style and audio go hand in hand, the JBL Go is everyone's perfect companion.
If you unexpectedly happen to end up at a house party on a Friday night and your friends donu0027t have any sound system to play tunes on, this speaker will be a saviour and take the party on all night long.

Connectivity
If you find yourself at your friendu0027s place and want to share your music with him or her, simply connect this speaker to your smartphone or tablet wirelessly via Bluetooth and let the music mania begin!

Power
The in-built lithium-ion battery of this speaker is rechargeable and, when fully charged, it can power the speaker for up to 5 hours.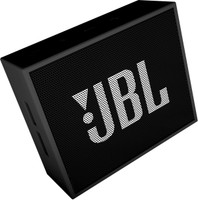 Speakerphone
The touch of a button is all it takes for you to answer calls on this speaker. Thanks to the noise-free speakerphone, what you say to the receiver will be communicated in crystal-clear detail.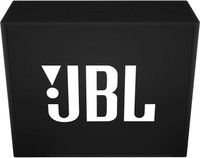 Design
This compactly designed speaker is easy to carry, has a durable double-injection finish and it comes with an in-built strap hook that you can use to carry this speaker around easily.
Audio Cable Input
Even if there is no Bluetooth on your phone, you can connect this speaker to your mobile device with an audio cable.
Rechargable Battery

The battery is easily recharged, which saves you battery hassles and money.

Android/iOS Compatible

Compatible with your choice of either iOS or Android devices giving you the flexibility you need for your listening pleasure.

3.5 mm Stereo Input

The 3.5mm auxiliary input allows you to connect external (portable) sources, mostly through their headphone output.

Bluetooth Connectivity

Bluetooth technology provides high-quality music streaming from mobile audio devices. Whether the sound source is your mobile phone, tablet or laptop computer, this product can work with it.
Price Alert
Price Change Anytime After Click, This Is Not All Time Price
Q & A
Questions and Answers
Q:

can i connect this speaker to mobile through usb or any other code?if yes then which code?
Q:

how can we check that battery is full charged
A:

While charging there is a red light. The light will turn off when the device is fully charged
Q:

Does it have FM in it ? How is the Sound Quality ? What is the accurate Battery backup duration? Is it Water Proof? Please answer is expected by the users.
A:

-Does it have FM in it: NO -How is the Sound Quality: Worth it. -Battery backup duration: 5-6 hours continuous ON -Is it Water Proof: NO
Q:

is this bass like jbl flip 2..??
Q:

usb support is there or not??!
A:

it is a normal charging with normal usb code. charges very quickly and back up is good.
Q:

how do i connect to smart tv?
Q:

can i connect it to pc in any way??
A:

Yes you can. Through 3.5mm aux cable or through Bluetooth.
Q:

can i conect my speaker to fm radio?
A:

no… u can use the auxiliary pin point and bluetooth.. (and really pendrive??? ) haha. but no worries dont let its cute looks deceive you, its an awesome speaker – worth the price
A:

yes it supports AUX……but you have to buy a separate one….not included in the box
Q:

does it only work with bluetooth can we use aux?
A:

It works with bluetooth and AUX both, but the AUX cable is not provided
Q:

Can be played directly with AC?
A:

only through vox and Bluetooth
Q:

What is the size of the speaker
A:

its 8cm X 6.5cm , and is 3cm in thickness or width.
Q:

does the color of the speaker has do to anything with the technical specifications of the speakers? for eg- does black color speakers have better specification than the grey ones??
Q:

How many range Bluetooth
A:

100m maximum 50m is good range
Q:

does it contain volume button ??
A:

yes it contains volume key, bluetooth key,power key and one USB port.
Q:

can i connect this speaker to led tv????
Q:

can we connect with microphone
Q:

My jbl stopped conneting with paired and other devices even it is fully charged. What to do?
A:

unpair with all current devices and re pair. there is a reset push button in device press gently for 10 seconds with a soft tip pen or other tool.
Q:

is there all button at the top of grey colour as compared to other colours
Q:

does it support pen drive through otg
Q:

Can I connect the device to microphone?
A:

its is good for a close room?
Q:

does it come with bluetooth dongle to connect led smart tv?
A:

Offcourse not, box contents are only what are mentioned. Nothing extra other than speaker and a usb cable
Q:

Can it play a song during charging?
Q:

Can it play music charging it?
A:

Yes you can play music while charging too
Q:

do i play FM radio with Bluetooth and AUX ? plz reply fast
A:

There is no FM Radio App in my phone
Q:

does it play FM radio with Bluetooth and AUX ? plz reply fast
Q:

does it play FM radio with Bluetooth and AUX ? plz reply
Q:

does it play FM radio with Bluetooth and AUX ?
Q:

Is it compatible with i Phone
Q:

here it specifies a 3.7V power input.but all mobile chargers are of 5V or higher…how to charge the speaker..?
A:

use spikebuster or electric board splitter or external cord..
Q:

What to do after battery is dead of jbl go ?
A:

simply plug in and recharge with android charger..
Q:

What to do after battery is dead?
A:

Just plug in the USB cord to mobile charger and charge it, should take less than 2 hrs to completely charge.
Q:

Can i use any adopter to chage it?
Q:

can i connect with my samsung led tv…?
A:

no u can can only to devices having bluetooth connectivity
Q:

Can I connect with it through bluetooth from my mobile?
Q:

have it play with memory card
A:

No, only aux and Bluetooth, of course
Q:

what will be better between JBL go and Altec Lansing Mini ?
A:

I would any day go for JBL as I have three products the JBL go, computer speakers, and headphones. Absolutely satisfied.
Q:

it does support calls and has mic
A:

Yes, JBL GO has a call button which operates call functions like picking up your phone and dialing the last number you have contacted. It also has a microphone through which you can answer calls.
Q:

My jbl is struck with red light this not working what can I do for this?
Q:

My jbl is over charged the red light is here jbl is not worked what can I do?
A:

Red light means low charge. Try charging for a while
Q:

Can i connect it to phone via Bluetooth?
A:

100%… no doubt …u can control it via ph. Bluetooth..
Q:

can i use it with laptop
Q:

This device is suitable for EDM listners??
A:

Yes it is suitable for EDM listeners
Q:

does bass quality is good for edm listeners?? Bass performance is good or not??
Q:

is it loud to cover a room ? like to dance….
A:

loud but not dance type of loud
Q:

does it have any bass control knob??
Q:

how mach sound it had in home
A:

Depends on what you need it for? Party or just regular use @home It could get pretty loud when you want it.
Q:

does it haS a bass or not