Philips BT50B Portable Wireless Bluetooth Speaker, Black
Anti-clipping function for loud, distortion free music
Wireless music streaming via Bluetooth 4.0 or below. Bluetooth range: Line of sight, 10M or 30FT
Built-in rechargeable battery for music playback anywhere
Battery backup is 5-6 hrs when the volume level is at Moderate level ( 40 -50% ). Good Bluetooth signal strength leads to slow discharging
Included accessories USB cable for PC charging, World Wide Warranty leaflet and Quick install guide
| | |
| --- | --- |
| Brand | Philips |
| Model | BT50B |
| Model Year | 2015 |
| Item Weight | 91 g |
| Product Dimensions | 6.1 x 6.1 x 7.6 cm |
| Batteries: | 1 A batteries required. (included) |
| Item model number | BT50B |
| Speaker Connectivity | Wireless |
| Audio Wattage | 2 Watts |
| Wattage | 2 Watts |
| Batteries Included | Yes |
| Batteries Required | Yes |
| Battery Cell Composition | Alkaline |
| Wireless Type | Bluetooth |
| Includes Rechargable Battery | Yes |
| Includes Remote | No |
| Supports Bluetooth Technology | Yes |
Colour:Black
Philips BT50B Wireless Portable Bluetooth Speaker The portable and stylish Bluetooth speaker
The Philips BT50B Wireless Portable Bluetooth Speaker is a utilitarian device that lets you listen to high quality music on the go. It is equipped with Bluetooth feature that provides effective connectivity while the compact and stylish circular design is unique and suits modern lifestyle.
Powerful sound experience for complete multimedia
This Philips wireless speaker comes with cutting edge sound technology that provides sharp and detailed sound. The enhanced sound driver is tiny yet has loud audio producing capabilities. So you get completely immersed in the audio and enjoy enhanced multimedia experience. This speaker is also armed with powerful bass feature that offers crisp bass. This bass feature is complimented by the effective bass control button that enables you to enjoy flexible bass. So, you can easily switch from thumping and loud bass to soothing and low bass note in no time. The speaker has wooden cabinet that enhances the reproduction technology and offers it natural touch. Hence the sound you hear has realistic tone and depth. Traditional wireless speakers create distortion as the battery gets low, however this not the case with this Philips speaker as it comes with anti-clipping feature. This distinctive feature prevents the peaks that are created due to low battery and thus results in distortion free sound. It also scrutinizes the signals passing through amplifier and keeps the peak in the range of amplifier. Hence you have effective music experience.
Effective designing and ease of access
This effective and powerful Philips speaker comes with ergonomic design that offers comfort and convenience. The body is highly compact and has tiny structure. Thus it is easy to use and cane be carried with ease. The circular shape brings more style and gripping while the easy to use navigation comes in handy. All the frequently used functions are located at the front which makes it easy to control this speaker. It includes buttons for on and off and also lets you keep the device in standby mode. The dedicated buttons for next and previous song gives liberty to change songs swiftly. With the play and pause button you get to easily stop and resume music. It also has buttons for music settings that include bass settings, treble control and volume alteration. So, you get create customized music experience as per your needs. The LED indicator and dedicated Bluetooth buttons enable you to set up Bluetooth connectively easily.
powerful battery and Bluetooth connectivity
This effective Philips speaker derives power from the effective battery. This lithium battery offers usage time of up to 06 hours and keeps the device unplugged for longer duration. It has various connectivity features that let you enjoy music from any device. With the audio jack feature you can connect any music device and stream music on the go. The Bluetooth feature is effective for connecting desired devices without any hassles of wires.
The Philips BT50A Wireless Mobile/ Tablet Speaker has a compact can-like form so you can keep your music pumping wherever you go. This speaker comes with a built-in rechargableb battery and is bluetooth-compatible.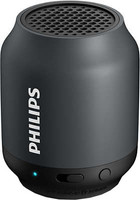 Design
This speaker fits in your fist so you can carry it wherever you go. All you have to do is connect this speaker to your smartphone and listen to your favourite track with ground-breaking sounds while on the go.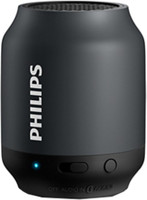 Performance
Enjoy an immersive audio experience with this speaker as it keeps the quality of sound intact while amplifying it with a 3.81 cm (1.5) driver and a built-in amplifier. The Anti-Clipping feature ensures that the speakers are safe from damage due to distortion without affecting the loudness.
Connectivity
Now you can stream music wirelessly from your smartphone or iPod as this speaker is Bluetooth compatible (with A2DP, AVRCP, HFP) for a distance of up to 10 m. This speaker also has a 3.5 mm audio-in jack so you can connect it directly to your phone or other electronic devices as well.
Battery
This speaker has a power output of 2 W (RMS) and is powered by a rechargeable Li-Po battery. Charge this speaker via its USB port and listen to music for 6 hours at a stretch.
From the manufacturer
Big Sound that Fits in a Fist
Bright colours help you pick one that fits your style and a built-in rechargeable battery keeps music pumping wherever and whenever you take it.
Wireless Music Streaming

Bluetooth is a short range wireless communication technology that is both robust and energy-efficient. The technology allows easy wireless connection to iPod/iPhone/iPad or other Bluetooth devices, such as smartphones, tablets or even laptops.

Anti-Clipping Function

Anti-Clipping lets you play music louder and keeps the quality high, even when the battery is low. It accepts a range of input signals from 300 mV to 1000 mV and keeps your speakers safe from damage by distortion.

Audio-In

Audio-In for easy connection to almost any electronic device.
Price Alert
Price Change Anytime After Click, This Is Not All Time Price
Q & A
Questions and Answers
Q:
is this device wired also?? 3.5mm jack is there?
Q:
aux cable in this product ?
Q:
can we connect this speaker to a computer without using bluethoot
Q:
This device is waterproof?
A:
no it isn't waterproof. don't try to check that out practically
Q:
In the Bluetooth speaker its own volume system is there or not?
A:
No it doesn't have one.
Q:
Is it chargeable???? If yes then how???
A:
yes it is chargeable..by any mobile adaptar
Q:
Can we use it while the device is being charged? Like continuously for 10 to 12 hrs?
Q:
can we use 9V adapter to charge it ???
A:
it not mentioned in user manual but I m using my mobile charger for charging…
Q:
can we use it for pc ??
A:
Yes, you can used it in PC
Q:
Does it work… when we play video online or from gallery ???
Q:
can we conect more than one speker at a mobile?
A:
no,only one device at a time
Q:
can we connect a pen drive to it?
A:
no only connect with Bluetooth
Q:
it has sd card slot or not
Q:
Can we insert pendrive directly in USB channel and play songs?
A:
No, actually in USB channel is only given for charging it.
A:
Overall experience is about par. Dont expect much regarding Bass. it's not meant for that much Bass and amplified sound . but at this price , the quality and experience is good.
Q:
is this speaker suppot calling
Q:
how much is battery capacity in maH
Q:
What is the size of device?
A:
It's too small around 10 to 12cm.
Q:
can this speaker be connected with i phone 7?
A:
yes.. with any iOS, android, windows phone..
Q:
is it connect with samsung j7 prime ?
A:
Yes, of course. It can be connected to any smartphone, using Bluetooth.
Q:
it supports on lyf phones?
A:
It is a Bluetooth speaker and it works with phone/ tablet/ pc with Bluetooth connectivity.
Q:
is it compatible with iPhone 6s?
Q:
is there a aux cable in the packet???
Q:
Can i use micro SD card to play songs in this device?
A:
No.it can only connect Bluetooth devices
Q:
How can I connect it to laptop..?
A:
Hi, I am using this product and I have also connected to my laptop with ubuntu OS.I just turned on Bluetooth and connect to this speaker after that do some settings in volume settings then it worked
Q:
can it connect with PC or LAP with wire connection?
A:
ya it will connect to pc or lappy but only thorough Bluetooth. no wire connection is there
Q:
Can we connect to computers (pc)? If yes, how
A:
yes, you can use the aux cable and you're done
A:
sound is sweet but not too loud.it is ok ok product.
Q:
is it connectable to samsung galaxy on 5?
Q:
How long will it play music if fully charged?
Q:
can we charge it through power bank 11000mAh???
Q:
Can I use my MI REDMI NOTE 4 charger to charge it?
A:
yes you can use it to charge the speaker.
Q:
Is there a hook or thred to hang the device on wall or Windows?
Q:
Is there a hook or thred to hang the device on wall or Windows?
Q:
Is there a hook or thred to hang the device on wall or Windows?
Q:
Is there a hook or thred using which we can hang it to the walls or Windows?
A:
No. There is no hook or thread.
Q:
Is there a hook or thred using which we can hang it to the walls or Windows?
A:
Unfortunately….There isnt…..
Q:
How to charge and how to know it is fully charged what is the use of buttens
A:
You can charge with help of 2.0 usb. led light indicates the charging.
A:
It's awsome sound quality
A:
I dont feel it is woth buying portable speaker and connectivity is very slow ..sound breaks sometimes but not regulary
Q:
is this device has volume adjustment feature
Q:
is this speaker support headphones?
Q:
is this speaker support earphone??
Q:
is this support bluetooth 4.1
Q:
Can I charge this product through smartphone charger directly from current?
Q:
can i connect it to laptop
Q:
With no volume buttons does the speaker have good quality sound
Q:
Has it mic for calling?
Q:
Has it mic for calling?
A:
no it doesn't. its simply for playing music
Q:
Has it mic for calling?
A:
No.. other then that, speaker do have pretty decent sound quality, and I really liked the look and feel of the product in terms of texture and form
Q:
can i connect with hp laptop
A:
it cannot be connected to the laptops..i
Q:
How many Hours the New Product Has to be Charged ??
Q:
is it compatible with my PC, which has Linux operating system
A:
u can use it with an aux cable, but with pc, if there is no Bluetooth v4.0 or above, u can't operate it, u have to install an Bluetooth device firstly, in pc, with it's driver installed
Q:
pendrives are work or not?
A:
It does not have USB option.. Only AUX and Bluetooth. But sound quality is very good..
Q:
how much time is required for it to be fully charged
Q:
how much time we have to charge it ?
A:
2-3 hrs charge, battery backup not good.sound sufficient in a room over all good.
Q:
does this work with Samsung Grand Prime And J2
A:
There's no button on the speaker to control volume. You can control volume through the connected device I.e. mobile, laptop whatever the speaker is connected to.
Q:
Does this has charging or discharging indicator? How do we know the battery level?
A:
when u connect it wid any mobile phone there it will show d level of charge it is having…accordingly u r connect to charger
Q:
Does this has charging or discharging indicator? How do we know the battery level?
A:
it has a charging indicator.There is no indication to know the battery level.
Q:
how many hours want to put charge how many hours it ll stand. . .
A:
one hour charge will stand for 3 hrs
Q:
can we directly charge this product from current? or is charging possible only through laptops or computers?
A:
Yeah.. I m directly charge from current
Q:
does it connects pen drive not usb
Q:
WHAT WILL WE CONNECT BLUETOOTH CALL RECEIVE AND TAKAING IN TIHS BLUETOOTH
Q:
Redmi 4 is compatible with this speaker??and tell me about sounds of this speaker
A:
Yes It Is Best Speaker in range it connect fast in redmi 4
Q:
can we connect through smart tv?
A:
Yes, we can connect smart tv with AUX cable but it's volume is not enough for large room.
Q:
Does it have a built in microphone?
Q:
will it work on youtube and audio surfing?
A:
yes it works on youtube
A:
can hear throught out the house
Q:
is this device is water proof.
A:
no it is a normal wireless speaker
Q:
does it connect to television
A:
it does connect to everything having Bluetooth. So no worries there
A:
Bass quality is great I loved it
A:
No, only Bluetooth connection which is working fantastic.
Q:
how about bass and treble
A:
Bass frequency ranges. Treble sound is the counterpart to bass sound.
Q:
does it support samsung note 5
A:
It connects through bluetooth. Obviously, it will support.
Q:
what is the capacity of battery
Q:
can we connect it to tv via USB to play music from tv
Q:
is this play video,movies sounds?
A:
Yes, it plays and supports on all mobiles
Q:
can we adjust sound through a phone ???
Q:
is work in lenevo vibe k5 note
A:
it is suitable for indoor not outdoor. the price is high high compared to the size and volume. and bass is pretty decent not much effective.
Q:
its work sony xperia xa1 mobile??
A:
I think its definitely working on all bluetooth devices.
Q:
Can I connect directly with laptop without Bluetooth and during this time it would be connected via USB with laptop?
Q:
Does it connects with a laptop ??
Q:
have any inbuilt microphone for calling purpose ?
A:
No you can use your phone's microphone to talk
Q:
does it supports iphone 6 bluetooth
A:
It supports all kinds of Bluetooth services
Q:
do it will supoort jio music songs
A:
yes it supports jio music app
Q:
what is the power output….in hz
Q:
can it connect with lenovo vibe k5 plus?
A:
Yes it can connect via aux
A:
bass is moderate (as comparison with other Bluetooth speakers). it will be pleasant to ears.
Q:
Is it compatible with Mi A1 ?
A:
Yes, it is compatible with your mobile.
A:
no , nO Slot for heaphones . Still good.
A:
yes plZzz fix more MHz battery in this product…..
Q:
What's about its volume and it's adjustable thorough speeker
A:
The volume is enough for normal room. No, it isn't adjustable.
Q:
If i switch on radio on my phone it will play in it
Q:
Does it get charged with normal mobile charger ?
Q:
what is battery back of this speaker
Q:
can we connect it to a mobile with an Usb?
A:
yeah…u can. you also connect it with your mobile via Bluetooth
Q:
is this speaker waterproof too?
A:
NO, my broo..it doesn't have fm radio….it is good only inside the room